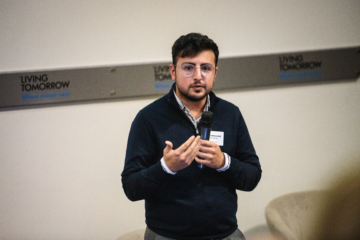 Elias Oumouadene is an Innovation Designer at TomorrowLab. He takes the stage to talk about digital drivers and how it's impacting our decisions.
Innovation Designer at TomorrowLab
With a genuine passion for strategy and technology, Elias's journey has seen him delve deep into diverse sectors, translating technological trends into tangible solutions. He's had the privilege to be part of projects that led him into strategic future foresight, where he manipulates trends and uncertainties to address challenges.
With his Gen Z perspectives and software engineering degree, he embodies the next generation and adds a unique perspective to strategic discussions.
Elias is available in French and English.
Need a venue or speaker for your event?
Living Tomorrow is a versatile event venue with various rooms and facilities. We are located amidst a lush green landscape yet close to the Brussels ring road.
We offer the auditorium and event hall for larger-scale events.
Living Tomorrow's vast grounds also offer plenty of opportunities for open-air events. And there is plenty of parking space.
Moreover, the voco™ catering professionals will help you make it an event you won't soon forget.